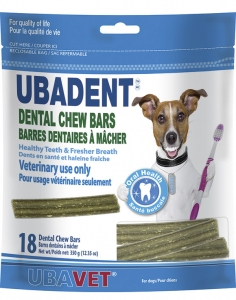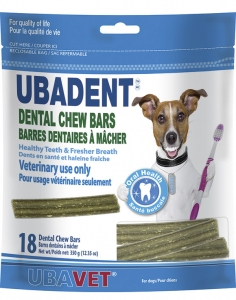 UBADENT DENTAL CHEW BARS / Healthy Teeth & Fresher Breath
UBADENT Dental chew bars have been specially formulated to help remove plaque and tarter build-up while they chew. Freshens breath while improving oral health and maintaining healthy gums and teeth. Great tasting chew bars for dogs.
INGREDIENTS: Yucca schidigera extract, cinnamon powder, parsley, apple pectin, champignon mushroom extract, spirulina, brewers yeast, yielding chlorophyll, arabic gum, canola oil, citric acid, ground oat groats, glycerin, mixed tocopherols, ground rye groats, oat meal, pumice, propionic acid, rosemary extract, silicon dioxide, sorbic acid, soy lecithin, vegetable oil, whey, flavors.
Approx. 65 calories per piece
BARRES DENTAIRES À MÂCHER / Dents en santé et haleine fraîche
UBADENT sont spécialement conçues pour éliminer les accumulations de plaque et de tartre de votre chien pendant qu'il mâche. Rafraîchit l'haleine, tout en améliorant la santé buccale et en maintenant les gencives et les dents saines. Une délicieuse barre à mâcher pour les chiens.
INGRÉDIENTS: Extrait de yucca schidigera, cannelle en poudre, persil, pectine de pomme, extrait d'agaric à deux spores, spiruline, levure de bière, chlorophylle, gomme arabique, huile de colza, acide citrique, ocons d'avoine moulus, glycérine, tocophérols mixtes, ocons de seigle moulus, farine d'avoine, ponce, acide propionique, extrait de romarin, dioxyde de silicium, acide sorbique, lécithine de soja, huile végétale, lactosérum, arômes.
Environ. 65 calories par pièce