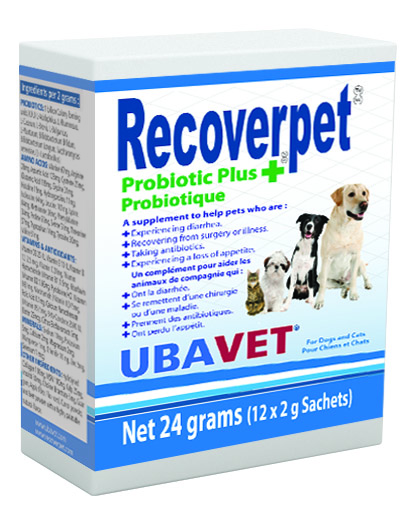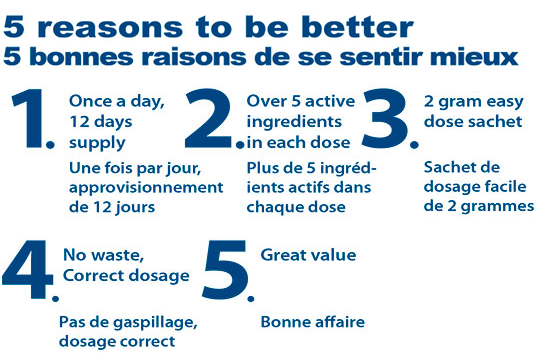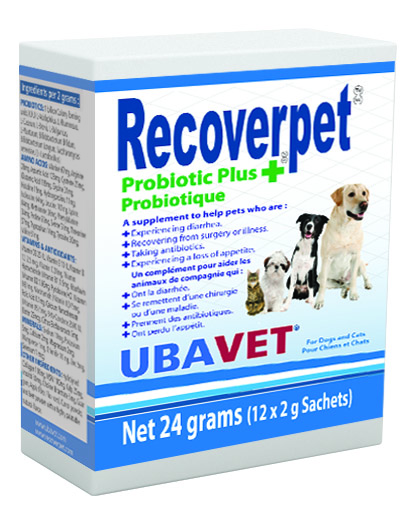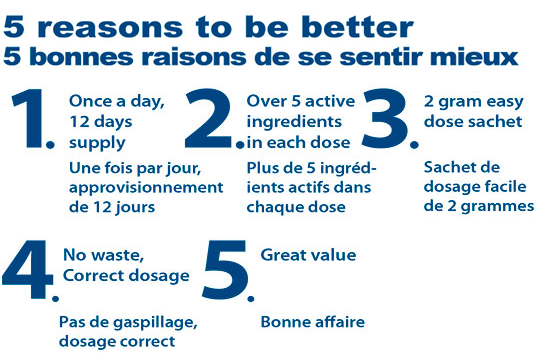 Probiotics / Electrolytes / Amino Acids Vitamins / Antioxidants & Minerals
Ingredients per 2 grams:
PROBIOTICS: 1 billion Colony forming units (CFU) L-Acidophilus, L-Rhamnosus, L-Caseium, L-Brevis, L-Bulgaricus, L-Plantarum, Bifidobacterium Bifidum, Bifidobacterium Longum, Saccharomyces cerevisiae. (L=Lactobacillus) AMINO ACIDS: Alanine 67mg, Arginine 28mg, Aspartic Acid 123mg, Cysteine 25mg, Glutamic Acid 199mg, Glycine 31mg, Histidine 19mg, Hydroxyproline 11mg, Isoleucine 64mg, Leucine 101mg, Lysine 84mg, Methionine 26mg, Phenylalanine 34mg, Proline 65mg, Serine 51mg, Threonine 57mg, Tryptophan 14mg, Tyrosine 30mg, Valine 61mg. VITAMINS & ANTIOXIDANTS: Vitamin D3 25 IU, Vitamin E 10 IU,Vitamin B 12 2.5 mcg, Vitamin C 20mg, Thiamin Hydrochloride (Vitamin B1)1.5mg, Riboflavin (Vitamin B2)1.66mg, Pyridoxine HCl (Vitamin B6)1mg, Niacinamide (Vitamin B3)15mg, Folic Acid 0.1mg, Calcium Pantothenate (Vitamin B5) 5mg, Beta-Carotene 2500 IU, Biotin 25mcg, Citrus Bioflavonoids 5mg. MINERALS: Sodium chloride 10mg, Potassium chloride 5mg, Calcium chloride 2mg, Magnesium 2mg, Manganese 1mg, Zinc chloride 5mg. OTHER INGREDIENTS: Hydrolysed Collagen 100mg, MSM 100mg, Kelp 25mg, Inositol 30mg, Choline Bitartrate 5mg, Guar gum, Apple fiber, Flax seed, Carrot powder, and Beet powder with a highly palatable natural flavor.
RECOVERPET IS USED WHEN PETS ARE EXPERIENCING DIARRHEA RECOVERING FROM SURGERY OR ILLNESS TAKING ANTIBIOTICS EXPERIENCING A LOSS OF APPETITE
Recoverpet Probiotic Plus contains the necessary ingredients for pets who are recovering from surgery, an illness or taking antibiotics, which makes it ideal for post-operative situations, and for those experiencing diarrhea. Recoverpet is also highly palatable and will help encourage a good appetite.
Probiotics / Electrolytes / Amino Acids Vitamins / Antioxidants & Minerals
Ingrédients par 2 grammes:
PROBIOTIQUES: 1 milliards d'unités forma- trices de colonies (UFC) de L-acidophilus,L-rham-nosus, L-casei, L-brevis, L-bulgaricus,L-plantarum, bifidobacterium bifidum, bifidobacterium longum, Saccharomyces cerevisiae.(L=Lactobacillus) ACIDES AMINÉS: alanine (67 mg), arginine (28 mg), acide aspartique (123 mg), cystéine (25 mg), acide glutamique (199 mg), glycine (31 mg), histidine (19 mg), hydroxyproline (11 mg), isoleucine (64 mg), leucine (101 mg), lysine (84 mg), méthionine (26 mg), phénylalanine (34 mg), proline (65 mg), sérine (51 mg), thréonine (57 mg), tryptophane (14 mg), tyrosine (30 mg), valine (61 mg). VITAMINES ET ANTIOXYDANTS: vitamine D3 (25 UI), vitamine E (10 UI), vitamine B 12 (2,5 mcg), vitamine C (20 mg), chlorhydrate de thiamine (vitamine B1) (1,5 mg), riboflavine (vitam-ine B2) (1,66 mg), Chlorhydrate de pyridoxin-e (vitamine B6) (1 mg), niacinamide (vitamine B3) (15 mg), acide folique (0,1 mg), pantothénate de calcium (vitamine B5) (5 mg), bêta-carotène (2 500 UI), biotine (25 mcg), bioflavonoïdes d'agrumes (5 mg). MINÉRAUX: sodium chloride (10 mg), potassium chloride (5mg), calcium chloride (2 mg), magnésium (2 mg), manganèse (1 mg), zinc chloride (5 mg). AUTRES INGRÉDIENTS: collagène hydrolysé (100 mg), MSM (100 mg), varech (25 mg), inositol (30 mg), bitartrate de choline (5 mg), gomme de guar, fibres de pomme, graine de lin, carottes en poudre et betteraves en poudre avec une saveur naturelle très agréable.
RECOVERPET S'UTILISE LORSQUE LES ANIMAUX DE COMPAGNIE
ONT DE LA DIARRHÉE SONT EN TRAITEMENT POSTOPÉRATOIRE PRENNENT DES ANTIBIOTIQUES ONT PERDU L'APPÉTIT
Recoverpet Probiotique Plus est un supplément unique, conçu pour aider les animaux de compagnie à retrouver et à garder leur santé et leur vitalité. C`est particulièrement béné que pour les animaux qui prennent des antibiotiques ou qui se remettent d'une chirurgie ou d'une maladie, puisqu'il contient les ingrédients nécessaires pour aider à accroître le niveau d'énergie, promouvoir la santé du système digestif et développer la force intérieure. Recoverpet a un goût très agréable qui favorise un bon appétit. Recoverpet procure un soutien métabolique supplémentaire, ce qui le rend idéal pour les animaux ayant subi une opération et pour ceux qui prennent des antibiotiques ou qui sou rent de diarrhée.