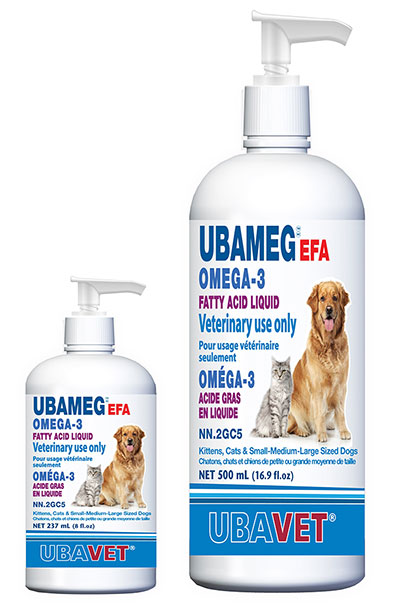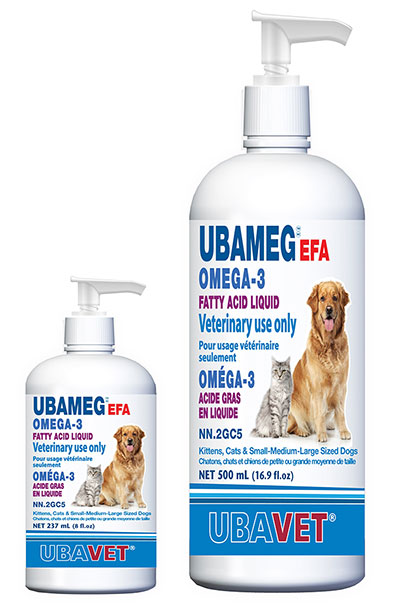 OMEGA-3 / FATTY ACID LIQUID
INDICATIONS: UBAMEG EFA Liquid is used in the maintenance of good health and well being. supports renal and cardiovascular functions. Helps the maintenance of a healthy skin and coat.
Active Ingredients per 1 mL: Eicosapentaenoic acid (EPA), 168.5mg; Docosahexaenoic acid (DHA), 116 mg; Vitamin A, 200 IU; Vitamin D, 50 IU; Vitamin E, 4 IU; Fish oil 0.9 g.
OMÉGA-3 / ACIDE GRAS EN LIQUIDE
DIRECTIVES: Le liquide UBAMEG EFA est utilisé pour le maintien d'une bonne santé et du bien-être. Appuie les fonctions rénale et cardiovasculaire. Contribue au maintien d'une peau et d'un pelage en santé.
Ingredients actif par 1 mL: Acid Ericosapentaénoïque (EPA), 168,5mg; Acid Docosahexaénoïque (DHA), 116 mg; Vitamine A, 200 IU; Vitamine D, 50 IU; Vitamine E, 4 IU; Huiles de poisson 0,9 g.